Current/Upcoming Events/Announcements:
We are open for in-person classes…Now we're not…Now we are…Now we're not.  (hopefully we will be back at the dojo again soon!)

COVID-19 update: We have been offering virtual training options using ZOOM to broadcast our classes to students – approximately 18 hours/week.* If you are a current member, please check your email for invitations and reach out if you didn't see them. Santa Clara County is currently back in the "purple" tier, we may need to go back to Zoom-only for a while.  Stay tuned for updates.
Normally, we have 14 youth Karate classes/week and 10 adult classes/week (including a few that are open to some kids as well –  we presently have 13 youth classes and 6 adult classes, 2 of which are also open to youth). We also have self-defense workshops, along with guest instructor events and more. See our schedule here.
We are set up to provide temperature scans at the front door, using a separate exit door to avoid bottleneck at entrance, social-distancing at all times…We have a 55″ monitor, laptop, condenser mic & HD camera on the wall…We are all set up for both in-person and remote learning!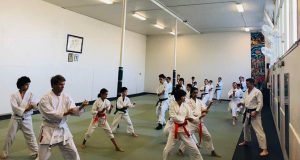 In our kata-of-the-month cycles, we are currently doing Kanku-sho (8:30-9:15am) and Heian Shodan (9:15-10:00am). No kumite classes for a while still…Other classes will be coming back as enrollment picks back up.
Many of us wore pink belts in October for Breast Cancer Awareness Month.
No classes on Thursday, November 26 (Thanksgiving), Dec 24/25 and Dec 31/ Jan 1, for the holidays.
Our annual charity kick-a-thon event will take place December 11-17 and we will have testing options in all youth classes those same days.
Check back here again soon for more info on upcoming events and announcements!