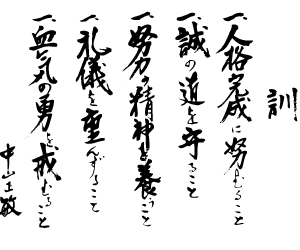 The dojo kun is the creed of karate-do, repeated at the end of each class. Its five declarations express the guidelines of modern karate-do, the way of karate.
一、人格完成に努むる事
Jinkaku kansei ni tsutomuru koto
Seek perfection of character
一、誠の道を守る事
Makoto no michi o mamoru koto
Be faithful
一、努力の精神を養う事
Doryoku no seishin o yashinau koto
Endeavor
一、礼儀を重んずる事
Reigi o omonzuru koto
Respect others
一、血気の勇を戒むる事
Kekki no yuu o imashimuru koto
Refrain from violent behavior
Most Shotokan karate groups that recite the dojo kun in English use the version above, and a very large number of non-Shotokan or multi-style groups also recite the same creed. For more nuanced translations and ideas about the layers of meaning in the dojo kun please ask your instructors.