Seminars with Sensei Keeling
Sensei Keeling has a busy schedule teaching at his dojo but does have some limited availability to teach seminars throughout the year and throughout the world. Please reach out if you are interested in discussing possibly scheduling something.

Sensei Jon Keeling began his Karate journey in 1982 and jumped in with both feet, attending every class available for the next several years, culminating with a move to Tokyo in 1985 to live and train at the source of top-quality Shotokan, where he trained at both Nakayama Sensei's private Hoitsugan Dojo and the JKA headquarters (Honbu) dojo. And although he is considered very highly skilled and has a successful competition history, his primary focus has been on teaching since he first started doing that in 1984. For a couple years in the mid-1990s, he even led weekly classes at the Hoitsugan as the senior student there.


Self-defense applications to Karate techniques and strategies was Keeling Sensei's primary passion since the early 1980s. But after starting to teach in 1984, he began also focusing on how to teach it to others. He also started studying body mechanics from around the same time (and has a masters degree in Kinesiology). All these come together when he teaches. Students learn the "hows and whys" and can greatly enhance the efficiency and productivity of their training when they learn more about ideal body positioning/movement and how we can use our training effectively in real-world self-defense.
Sensei Keeling has taught in multiple countries on each of three continents despite having a hectic teaching schedule at his dojo and in other locations nearby. For many years, he has taught over 20 hours/week and often as much as 30. Over the past 38 years, he has amassed a total of over 17,000 hours of teaching time, with nearly 2500 of that over Zoom, where students regularly attend his classes from around the world.

Having trained with dozens of instructors considered to be among the best-of-the-best, Keeling Sensei has the ability to draw from a vast knowledge-base to synthesize a variety of training methods and teaching modalities in a way that can produce quick, positive results.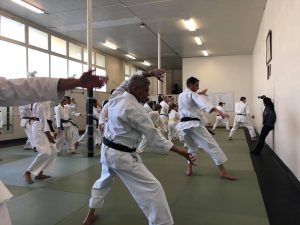 In addition to his vast knowledge/experience, another thing that seminar hosts often find valuable when scheduling Keeling Sensei is his seemingly endless supply of energy. He can teach 6 hours in a day at camps. Compared to the 8+ hours he has often done in his dojo, he never finds seminars to significantly drain his energy.

Seminars can be fully customized. Want one session on movement concepts, another on advanced kata applications, another on kumite strategy and another on self-defense? No problem.
Also available for tournament judging/referee clinics.
Sensei Keeling has won or placed in many tournaments, including qualifying to represent Tokyo in the JKA All-Japan tournament a total of four times by finishing among the top eight competitors in the All-Tokyo tournament.  Sensei Keeling is often seen leading judging/referee efforts at various tournaments in the area and acts as Chief Referee at a minimum of three tournaments/year and often several more.

For more about Sensei Keeling, see here.