Our annual "Shotokan Kata Review" is coming up on January 7th (Saturday), 8-10am. We will go through 27 traditional Shotokan kata, twice each. And if time permits we will review additional kata. This is a great opportunity to discover (or re-discover) the breadth of the traditional Shotokan kata syllabus.
Sensei Jon Keeling has been running this annual event since 1999 and between kata repetitions reviews some history, training points, application ideas and personal reflections.  We will be running this event both in-person and simultaneously online. Dojo attendance is limited and registration is required.

Sign up here for the virtual version (just $10): (will add link later)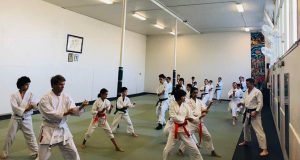 All SVSK members who know at least the first couple kata are welcome (colored belt youth, white belt adults). Non-SVSK members are welcome at the reduced rate of just $10 for this special event. Instructors from other dojo often attend these to fill in gaps in their kata knowledge.
To sign up, please click here.